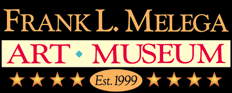 Scroll to bottom to view entire page
Call ahead to confirm
weekend schedule:
724-785-9331
Open Tuesday - Sunday
Noon to 5:00 PM
Closed Mondays
The Frank L. Melega Art Museum is an equal opportunity provider.
Corporate Contributions
The Frank L. Melega Art Museum offers opportunities for large and small businesses to become an active part of the museum. Corporate membership provides vital funding for the museum's programs and activities. In turn, corporations receive benefits that offer community recognition and opportunities for company employees and representatives to experience museum exhibitions and programs.
Sponsorship Opportunities
The museum offers businesses opportunities to support special projects such as exhibitions, educational programs, and special events. Special sponsorships of exhibitions, for example, provide corporations with added community exposure through acknowledgement on the gallery walls, on the museum's Web site, in press releases related to the exhibition, and exhibition postcards.
In-Kind Donations
The museum welcomes donations of in-kind goods and services to support its program and to reduce our costs.
Open Tuesday - Sunday
11:00 AM to 4:00 PM
Closed Mondays
Call ahead to confirm
weekend schedule:
724 785 9331
Open Tuesday - Friday
11:00 AM to 4:00 PM
Closed Mondays
Sunday 1:00 - 4:00 PM
Call ahead to confirm
Saturday schedule:
724 785 9331